The "new" low-dose commercial rodenticides represent an important shift in rodent control practice since the discovery that anticoagulants have rodenticide potential when formulated as baits in 1950.
A lower concentration of an active substance in the product may require the consumption of more bait during feeding or visiting the feeding site repeatedly for the ingestion of the lethal dose by a target rodent. Low concentrations may also prolong the period between the initial consumption of the bait and time to death of the individuals. But Ratimor Brodifacoum baits contain 0.0029% of the active ingredient Brodifacoum and despite the reduced concentration of active ingredient, they still have a single-feed mode of action against rats. Brodifacoum is a single-feed second-generation anticoagulant and one of the most potent active ingredients. When compared to other anticoagulant rodenticides, brodifacoum has an excellent level of activity against the brown rat and the house mouse. As with all anticoagulants, accidental poisoning with brodifacoum can also be antidoted with vitamin K1.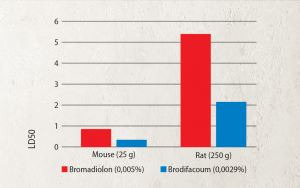 Ratimor Brodifacoum baits are formulated as ready-to-use baits in two different forms – as Fresh Bait or Wax Blocks – and can be produced in different shapes and sizes.
Ratimor Brodifacoum Fresh Bait is the most effective formulation. Containing high-quality wheat flour, chopped grain, a mixture of different fats and oils, taste adjuvants and aromas make the best bait "take" while stabilising agents prevent oxidation and ensure long-lasting attractiveness. This flavourful and juicy bait is the most palatable bait on the market. The palatability trials showed that fresh bait is 50% more palatable than the challenge diet. For these reasons, fresh bait performs best even in the areas where lots of other food is available.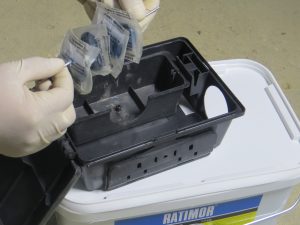 Ratimor Brodifacoum Wax Blocks contain a preservative that prevents moulding and protects the bait from bacteria and fungi, providing excellent performance in all environmental conditions, even in damp places such as sewage systems or in places with high temperatures.
Using high-quality edible wax and proteins ensures excellent "bait" take. The wax blocks can be produced in different sizes, without or with the hole through the centre of the block and even with a wire already inserted in the block for easier application, better control and keeping the baits in the planned location.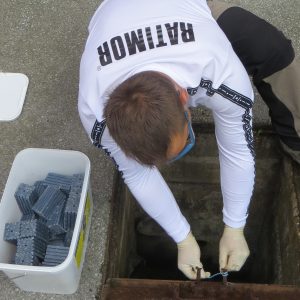 All Ratimor baits are formulated using high-quality food-grade ingredients. The combination of different raw materials and additives allows us to produce highly nutritious baits which are very desirable to rodents. However, no formulation is completely universal and for effective rodent control the product needs to fulfil different requirements, such as attractiveness, stability efficacy and low risk to non-target animals.
With a wide range of products, Unichem can offer you a solution for a variety of pest problems.